MM Innovations, LLC
1814 E. Susquehanna St - REAR
Allentown, PA 18103
610-791-AUTO

Headrest Video Systems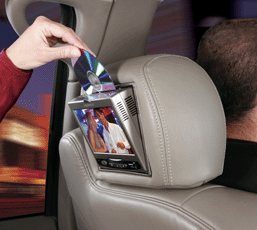 Audiovox Custom Headrest System
(2) 16:9 Wide 7" monitors
Built in DVD players
On Screen Display (OSD)
Wireless Remote Control
Wireless FM Modulator
(2) 2 Channel Wireless Headphones
Built in Dual IR Transmitter
Independent A/V Switching
AUX A/V Input & Output
Adjustable viewing angles
Custom Matched For Your Vehicle!
Wired Game Port for included Game Controller!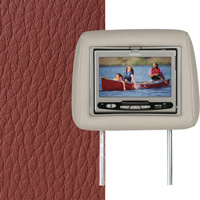 Audiovox brings you the ultimate in custom headrest solutions. Modular headrests with built in LCD screens actually replace the original equipment headrests in your vehicle. No damage to the headrests. No problem when you return your leased car, just remove the Audiovox custom headrests and replace them with the factory originals. Your custom headrests have been designed to match the style of your OE headrests as well as your vehicle interior. Installation is quick and easy. Simply pull out the existing headrests and replace them with ours. Wiring is minimal. Our custom headrests include screens that are dual video source capable (video source not included). All the operating controls are right on the screens and there are two remotes as well. The adjustable screens allow the viewer to choose the optimum angle for viewing. Call us for specific applications!